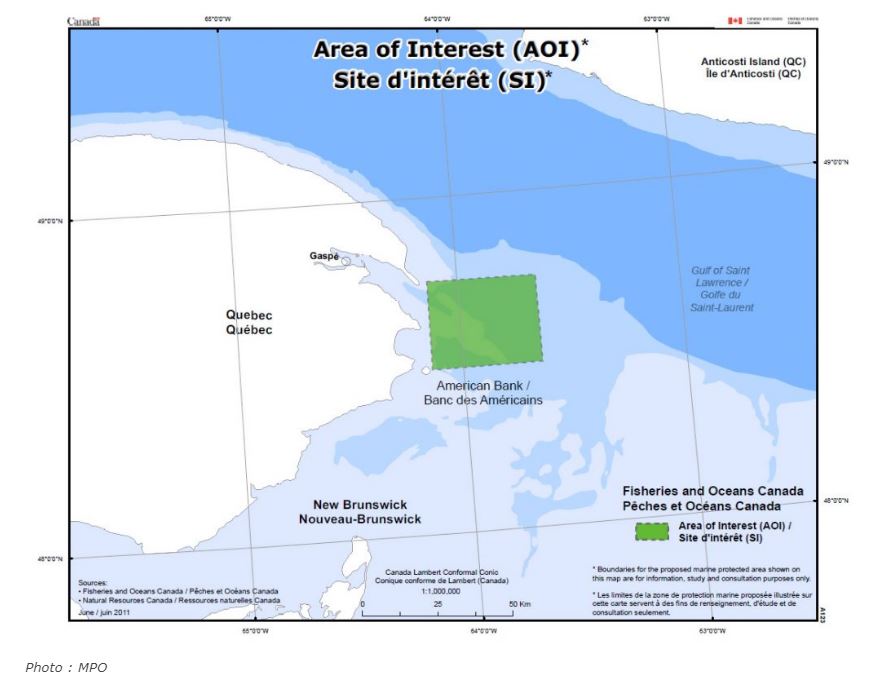 FISHERIES AND OCEANS CANADA:
Today, the Government of Canada and the Province of Quebec announced their intention to establish the first joint Marine Protected Area ─ the Banc-des-Américains ─ located off the eastern tip of the Gaspé Peninsula. This will be the first project under the Canada-Quebec Collaborative Agreement to establish a network of marine protected areas in the Estuary and Gulf of the St. Lawrence.
This announcement was made by Isabelle Melançon, Quebec Minister of Sustainable Development, the Environment, and the Fight Against Climate Change and the Honourable Diane Lebouthillier, Minister of National Revenue and Member of Parliament for Gaspésie ─ Les Îles-de-la-Madeleine, on behalf of the Honourable Dominic LeBlanc, Minister of Fisheries, Oceans and the Canadian Coast Guard.
The highly anticipated establishment of the proposed Banc-des-Américains Marine Protected Area will be subject to a specific intergovernmental agreement. The new Marine Protected Area will have double status, as an aquatic reserve under Quebec law, and as a Marine Protected Area under the Oceans Act.
The proposed Banc-des-Américains Marine Protected Area covers approximately 1,000 km2 off the Gaspé Peninsula between Cap-Gaspé and Cap-d'Espoir where the Gaspé and Chaleur Bay currents meet. This "biological crossroad" is rich in plankton and therefore important for many fish and whale species, some of which are endangered, such as the blue whale and the wolffish.