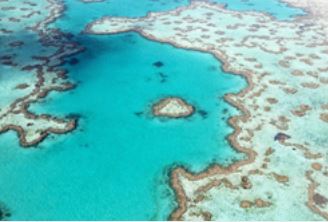 CISION PR WEB:
Queensland, Australia
 is pleased to advise a positive update on the recovery status of the iconic Great Barrier Reef. The Reef & Rainforest Research Centre (RRRC), a non-profit enterprising Australian organization, has reported substantial signs of recovery for corals affected by mass coral bleaching on the Great Barrier Reef. A milder 2017-18 summer as well as cooperation between science, industry and government is supporting the recovery of the Reef in many important locations.
The majestic Great Barrier Reef is one of the seven natural wonders of the world and the world's largest living organism, stretching 1,430 miles and featuring an abundance of marine life with over 3,000 individual reef systems and coral cays as well as hundreds of tropical islands with some of the world's most beautiful sun-soaked, golden beaches.
As an iconic natural wonder and an unforgettable lifetime experience, the Great Barrier Reef is one of the world's most sought-after tourism destinations, offering an abundance of experiences for travelers such as snorkeling, scuba diving, aerial tours and marine educational tours. Tourism provides critical support of the Great Barrier Reef, as visitor fees contribute to the Great Barrier Reef Marine Park Authority, the federal agency with oversight for the protection and scientific research to support the sustainability of the reef, including regulations that provide a global benchmark for responsible tourism practice.